weightloss
Worldwide Business with kathy ireland®: See Structure House…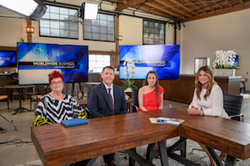 Structure House is a healthy weight loss and wellness program for adult men and women.

LOS ANGELES (PRWEB)
August 30, 2019
Worldwide Business with kathy ireland® is pleased to announce an exclusive interview with Structure House CEO/Licensed Clinical Psychologist Katie Rickel and Division President Bill Mason to discuss their life-changing weight loss and wellness program.
Structure House is a healthy weight loss and wellness program for adult men and women. Structure House utilizes a holistic approach that integrates behavioral skills training, nutritional expertise and fitness conditioning in a healing and supportive environment to achieve lasting results. Since 1977, Structure House has built the foundation for healthy living, sustainable weight management and recovery from emotional overeating for more than forty-thousand people. Recognizing that many people may need weight loss to improve their health and physical functioning, Structure House provides evidence-based, healthy behavioral weight management. Much more than a diet program, Structure House helps people develop the behaviors, attitudes and lifestyle that will instill a lifelong (versus "quick-fix") approach to healthy habits. Their customized weight management services help guests embrace their strengths, heal their bodies and create lasting, positive change. The ultimate goal of the program is to help people live the life they most want to live. Structure House is located on twelve beautiful acres of land in Durham, North Carolina. Rickel says that Structure House is very different than other weight loss programs. She explains, "Most weight loss programs focus almost exclusively on what not to eat and how much to exercise. What we've learned is that that's really an oversimplification of a pretty complex issue. And that's where Structure House is really a game changer for people. For the first time, they're looking at their life more globally and seeing what patterns or dynamics may be making it difficult, if not impossible, to lose weight and keep it off."
For more information about Structure House, visit structurehouse.com/kathyireland and tune in to Fox Business Network as sponsored content on Sunday, September 1, 2019 at 5:30pm EST and Bloomberg International on Saturday, August 31, 2019 at 7:30pm GMT and Sunday, September 1, 2019 at 10:30am D.F. and 3:00pm HKT.
About Worldwide Business with kathy ireland®

Worldwide Business with kathy ireland® is a weekly half-hour show featuring global executives sharing their business insights and framing the opportunities shaping their industries. Hosted by a business mogul, Kathy Ireland interviews some of the brightest minds in business today. The show broadcasts on Fox Business Network as part of their sponsored content line up and globally on Bloomberg International. Worldwide Business with kathy ireland® extends beyond the weekly on-air program with digital content delivered on various video platforms and across social media.
Visit http://www.tvwwb.com for detailed airing schedules or check local listings.